Announcements
2021 Spring Turkey 3rd Lottery Deadline Approaching
Furbearers
Season Dates & Limits
Hunting Dates & Limits
SPECIES
DATES
HOURS
LIMIT
ADDITIONAL REGULATIONS
Coyote
Year round. Closed 20-22 Nov and 3-6 Dec 2020 in counties open for firearm deer hunting
1/2 hour before sunrise to 1/2 hour after sunset. No time restriction 10 Nov 2020–15 Mar 2021
No limit
Hunters with unfilled firearm deer permits may take coyotes during firearm deer season by shotgun with slugs, muzzleloader or handgun from 1/2 hour before sunrise to 1/2 hour after sunset
Striped Skunk
Year round. Closed 20-22 Nov and 3-6 Dec 2020 in counties open for firearm deer hunting
1/2 hour before sunrise to 1/2 hour after sunset. No time restriction 10 Nov 2020–15 Mar 2021
No limit
Raccoon
10 Nov 2020–15 Feb 2021. Closed 20-22 Nov and 3-6 Dec 2020 in counties open for firearm deer hunting
Open 24 hours a day, but during Archery Deer Season bow hunting hours for raccoon, opossum and fox will be 1/2 hour before sunrise to 1/2 hour after sunset
No limit
Opossum
No limit
Fox
(Red and Gray)
No limit
Bobcat
10 Nov 2020–15 Feb 2021. Closed 20-22 Nov and 3-6 Dec 2020 in counties open for firearm deer hunting
Open 24 hours a day
1 by permit only
Must possess a Bobcat Hunting and Trapping Permit BEFORE attempting to take a bobcat. Must purchase Bobcat Registration Permit within 48 hours of taking a bobcat. Taking bobcats in closed zone is prohibited
Woodchuck
(aka, Groundhog)
1 Jun 2020–31 Mar 2021. Closed 20-22 Nov and 3-6 Dec 2020 in counties open for firearm deer hunting
1/2 hour before sunrise to 1/2 hour after sunset
No limit
Trapping Dates & Limits
SPECIES
DATES
LIMIT
ADDITIONAL REGULATIONS
Coyote
10 Nov 2020–15 Feb 2021
No limit
Raccoon

Opossum
Striped Skunk
Weasels
Mink
Muskrat
Fox
(Red and Gray)
Badger
10 Nov 2020–15 Feb 2021
North Zone: 2 per person per season
See zone map for boundary
10 Nov 2020–15 Feb 2021
South Zone: 1 per person per season
See zone map for boundary
Bobcat
10 Nov 2020–15 Feb 2021
1 by permit only
Must possess a Bobcat Hunting and Trapping Permit BEFORE attempting to harvest a bobcat. Must purchase Bobcat Registration Permit within 48 hours of taking a bobcat. Taking bobcats in closed zone is prohibited
Beaver
10 Nov 2020–31 Mar 2021
No limit
River Otter
10 Nov 2020–31 Mar 2021
5 per person per season
Must purchase Otter Registration Permit within 48 hours after each otter is trapped. Must affix official CITES tag to each pelt
Woodchuck
1 Jun–30 Sep 2020
No limit
Species Regulations
Badger
Method: Trapping only
Can use: Legal traps within statewide regulations
Zones: Badger trapping limit is split into 2 zones as shown on the map below. Refer to the trapping limits table above for details
Beaver
Method: Trapping only
Can use: Leghold traps on land or in water that have jaw spread between 5.5-7.5 inches. Body-gripping traps that have jaw spread between 7-10 inches on a side if square, or maximum of 12 inches if round. Trap size regulations defer to statewide size regulations during the open season for trapping raccoons
Bobcat
Method: Hunting and trapping
Can use: legal traps, archery, 0.22 caliber or smaller rimfire firearm or shotgun (no slugs), centerfire rifles (allowed only on private property)
Note: Must possess a Bobcat Hunting and Trapping Permit before attempting to harvest a bobcat. Must purchase Bobcat Registration Permit within 48 hours of taking a bobcat. A federal CITES tag mailed to you by the IDNR must be attached to the pelt
Note: A bobcat taken as a road-kill counts toward the permit limit
Coyote
Method: Hunting and trapping
Can use: Legal traps within statewide regulations, archery, any type and caliber of handgun, any type of legal rifle including large capacity semi-automatic rifles and shotguns with any type of shell. Additional regulations apply, see the Furbearer section of the the Statewide Hunting and Trapping Regulations
Foxes
Red fox and gray fox
Method: Hunting and trapping
Can use: legal traps, archery, 0.22 caliber or smaller rimfire firearm or shotgun (no slugs), centerfire rifles (allowed only on private property)
Mink
Method: Trapping only
Can use: Legal traps within statewide regulations
Muskrat
Method: Trapping only
Can use: Legal traps within statewide regulations
Opossum
Method: Hunting and trapping
Can use: Legal traps within statewide regulations, archery, 0.22 caliber or smaller rimfire firearm or shotgun (no slugs), centerfire rifles (allowed only on private property)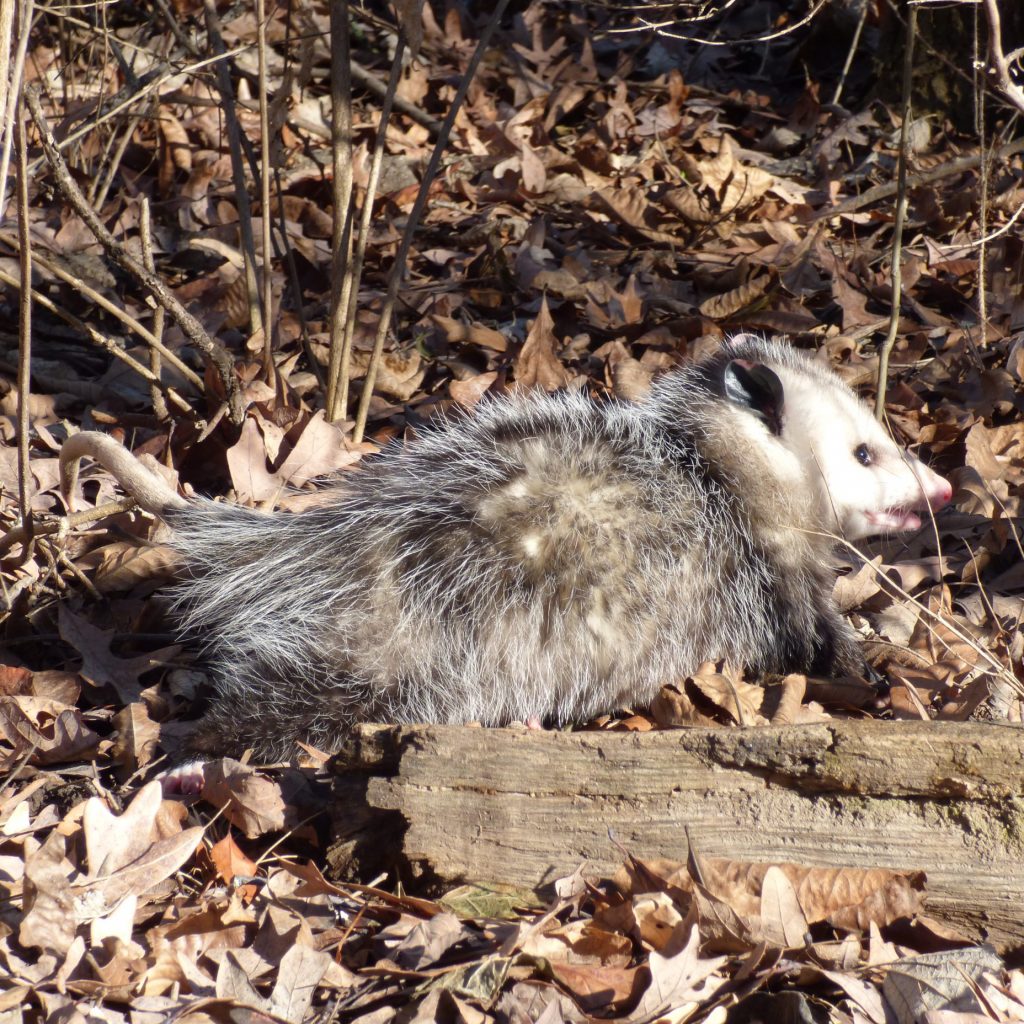 Raccoon
Method: Hunting and trapping
Can use: Legal traps within statewide regulations, archery, 0.22 caliber or smaller rimfire firearm or shotgun (no slugs), centerfire rifles (allowed only on private property)
Note: calling, stalking or treeing with dogs is allowed
River Otter
Method: Trapping only
Can use: Leghold traps on land or in water that have jaw spread between 5.5-7.5 inches. Body-gripping traps that have jaw spread between 7-10 inches on a side if square, or maximum of 12 inches if round. Trap size regulations defer to statewide size regulations during the open season for trapping raccoons
Note: Must purchase an Otter Registration Permit within 48 hours after each otter is trapped. A federal CITES tag mailed to you by the IDNR must be attached to the pelt
Note: A river otter taken as a road-kill counts toward the season limit
Striped Skunk
Method: Hunting and trapping
Can use: Legal traps within statewide regulations, archery, 0.22 caliber or smaller rimfire firearm or shotgun (no slugs), centerfire rifles (allowed only on private property)
Weasels
Long-tailed weasel and least weasel only
Method: Trapping only
Can use: Legal traps
Woodchuck
Method: Hunting and trapping
Can use: Legal traps within statewide regulations, archery, 0.22 caliber or smaller rimfire firearm or shotgun (no slugs), centerfire rifles (allowed only on private property)
Note: woodchuck is classified as a state game mammal, but is included in the furbearer section because it may be hunted or trapped
Licenses & Permits
Permits & Lotteries
Use the License Finder to determine what permits you qualify for
Use the Directory or Hunt Planner to determine what type of permit you need for a given hunting site
Species-specific permits are generally not required for most species, except bobcat and river otter. Check site-specific info to verify if a permit is needed to hunt and/or trap furbearers
River Otters
Bobcats

Require a lottery permit (apply online)
Application dates: 1-30 September 2020
Available to: residents and non-residents
Check the status of your bobcat permit application

If the link is down, the lottery for the current hunt/trap year has not yet run. Please try again 2–3 weeks after the close of the application period.

Note: Bobcat Hunting and Trapping Permits cannot be transferred to another person

More details on permits can be found in the Statewide Hunting and Trapping Regulations
Furbearer Specific Regulations
Be sure to check regulations for the IDNR site(s) you intend to hunt and/or trap, as some sites have more restrictive regulations on equipment, harvest reporting, etc. You can find site-specific regulations using the Directory or Hunt Planner
Can use (Hunting):
Statewide regulations (excludes IDNR sites)

Centerfire or rimfire rifle of any caliber (single shot through semi-automatic, no magazine/capacity restrictions). Hunters are responsible for the projectiles they fire. Follow the rules of Hunter Safety – be sure of your target and what is beyond
Shotgun of gauge 10 or greater (e.g., 12 gauge), slugs allowed
Single shot through semi-automatic handgun of any caliber
Archery (see Deer info for equipment specifications)

IDNR site restrictions

Only .22 caliber or smaller rimfire firearms allowed from sunset to sunrise unless otherwise stated in site-specific regulations
Slugs are not allowed (but see exception for coyote hunting in Species Regulations above)

Cannot use or possess any tree climbing or cutting device (e.g., axe or saw) when hunting furbearers
Some IDNR sites require an annual Hound Running Area Permit. Contact the IDNR Springfield Office to apply for a permit
Can use (Trapping):
Statewide Trap specifications (diameter measured from inside edge of jaws or cable)

Leghold set on land must have jaw spread of 6.5 inches or less
Leghold set in water must have jaw spread of 7.5 inches or less
Body-gripping trap on land must have jaw spread of 7 inches or less on a side if square or 8 inches if round
Body-gripping trap in water must have jaw spread of 10 inches or less on a side if square or 12 inches if round. Traps greater than 10 inches must be completely submerged in water when set on IDNR sites
Snares must be 15 inches or less in diameter when set and be constructed of cable between 5/64 to 1/8 inch diameter and equipted with a mechanical lock, anchor swivel and stop device that prevents the snare loop from closing less than 2.5 inches in diameter. At least half the snare be must submerged in water at all times

If trapping beaver or river otter, see those sections above for specific trap sizes for those species
Must mark or tag all traps with the name and address or IDNR customer number of the trap owner
Traps must be checked and animals removed at least once per day
Saw-toothed, spiked or toothed jaw traps are illegal
Can use a .22 caliber or smaller rimfire firearm to dispatch animals from traps on IDNR sites, unless site-specific regulations state otherwise
No trapping is permitted in IDNR site subimpoundments or designated waterfowl management units during duck season
Other regulations apply. See the Furbearer section of the the Statewide Hunting and Trapping Regulations
Management & Ecology
Furbearer hunting and trapping seasons allow for the harvest and use of 14 species of furbearers (and one game mammal – the woodchuck) in Illinois. Eight species can be hunted or trapped and 7 species may only be taken by trappers during their respective seasons. Please review the furbearer sections for specifics on each of the species, legal methods and seasons.
IDNR Division of Wildlife recognizes that regulated trapping is a versatile, safe, effective and ecologically sound means of capturing individual animals without impairing the survival of furbearer populations or damaging the environment.
Trapping provides income, recreation and an outdoor lifestyle for many citizens through use of a renewable natural resource and provides an effective means of harvesting, managing and/or studying furbearers; controlling damage caused by furbearers; and at times, reduces the spread of harmful disease.
IDNR also recognizes that trapping concerns some segments of the public that oppose trapping or use of specific trapping devices. IDNR supports regulated trapping and efforts to address societal concerns through appropriate education, research, enforcement and regulatory programs. Such programs shall be designed to increase awareness and acceptance of trapping by seeking to enhance animal welfare while maintaining management capabilities and other benefits associated with this activity. To maximize animal welfare, the IDNR regulates trapping using the Best Management Practices developed by the Association of Fish & Wildlife Agencies.
Archery Deer Hunter Surveys