Announcements
Apply now for a Deer Firearm/Muzzleloader Permit!
Definitions
Residency
Resident: defined as a person who in good faith applies for any license or permit and verifies by statement that he/she has maintained his/her permanent abode in Illinois for a period of at least 30 consecutive days immediately preceding the person's application, and who does not maintain permanent abode or claim residency in another state for the purposes of obtaining any of the same or similar licenses or permits. A person's permanent abode is his/her fixed and permanent dwelling place, as distinguished from a temporary or transient place of residence. Domiciliary intent is required to establish that the person is maintaining his/her permanent abode in this state. Evidence of domiciliary intent includes, but is not limited to, the location where the person votes, pays personal income tax or obtains a drivers license. Except for the purposes of obtaining a Lifetime License, any person on active duty in the Armed Forces shall be considered a resident of Illinois during his or her period of military duty.
Non-resident: anyone not fitting the requirements of a resident
Equipment
Archery
Vertical compound bow, traditional bow and crossbow are legal archery equipment, but specifications for archery equipment differ by species. Specifications for each species can be found in the Information by Species section on the home page
Firearms
Silencers and suppressors are not legal
Firearm Owner's Identification Card (FOID) Requirements

Illinois residents who have a firearm or firearm ammunition in their possession also must have in their possession a valid FOID card, issued by Illinois State Police, unless:

Hunting within a licensed commercial club (licensed by IDNR), provided he/she is accompanied by a person who has a valid FOID card
Under the age of 21 and under the immediate control of a parent, guardian or responsible adult who has in his or her possession a valid FOID card

Non-residents hunting with a valid Illinois hunting license do not need a FOID card
IDNR does not issue FOID cards. Contact the Illinois State Police or use their FOID card online application

Concealed Carry
Shotguns

It is unlawful to use any shotgun larger than 10 gauge while taking or attempting to harvest any game species
Barrel length shall not be less than 18 inches, and the overall length shall not be less than 26 inches
It is unlawful to use a shotgun capable of holding more than 3 shells in the magazine and chamber combined. Any shotgun having a capacity of more than 3 shells must be fitted with a one-piece plug that is irremovable without dismantling the shotgun or otherwise altered to render it incapable of holding more than 3 shells in the magazine and chamber combined

Muzzleloaders

Definition: a firearm that cannot be loaded from the breech end.

Only black powder or a "black powder substitute" such as Pyrodex may be used
Modern smokeless powders are an approved black powder substitute only in muzzleloading firearms that are specifically designed for their use
Percussion caps (shotgun primers are legal), wheellock, matchlock or flint type ignition only may be used, except the Connecticut Valley Arms (CVA) electronic ignition are legal
Centerfire Rifle

Definition: a bottleneck centerfire cartridge of .30 caliber or larger with a case length not exceeding one and two-fifths inches OR a straight-walled centerfire cartridge of .30 caliber or larger

Both must be available as a factory load with the published ballistic tables of the manufacturer showing a capability of at least 500-foot pounds of energy at the muzzle
Full-metal jacket bullets may not be used to harvest a deer
It is unlawful to use a centerfire rifle capable of holding more than 1 round in the magazine and chamber combined. A rifle is considered a legal, single shot firearm if there is no magazine in possession of or in close proximity to a hunter in the field and the gun can only hold a total of one round. For more information, visit IDNR's FAQs for Single-shot rifles page.

For more information regarding the use of centerfire rifle for hunting deer in Illinois see 17 Ill.Adm.Code, Section 650.30 a).
Transport
You cannot legally:

Place, carry, possess or transport a shotgun on a boat of any type in an area under the jurisdiction of IDNR from 1 February to 31 May inclusive, except persons having a valid, unfilled harvest permit and licensed or authorized hunters legally hunting wildlife in season.
Have or carry a shotgun, rifle, handgun or airgun in or on any vehicle, conveyance or aircraft unless the firearm or airgun is unloaded and completely enclosed in a case except as noted in the Blinds section of Waterfowl Specific Regulations.
Carry a bow or bow and arrow device in or on a vehicle, conveyance or aircraft unless it is unstrung or enclosed in a case, or otherwise made inoperable.
Carry or possess any gun in any state refuge except as provided by Administrative Rules.

A validly licensed concealed carry licensee can possess a concealed carry firearm while hunting or trapping within designated areas but are subject to Section 2.33 of the Wildlife Code on illegal devices and State refuges, the prohibitions set forth in Section 65 of the Firearm Concealed Carry Act and any applicable federal regulations.
Falconry
State falconry permits, issued in accordance with federal regulations 50 CFR 21.29, are required to take, possess and transport hawks, falcons and great horned owls for falconry purposes. Contact the Office of Law Enforcement for details.
Night Hunting
You cannot legally use lights of, any light from, or any light connected to a vehicle or conveyance in areas where wildlife can be found. This does not prohibit normal use of headlamps for driving upon a roadway. Except: skunk, opossum, red or gray fox, coyote and raccoon may be harvested during the open season using a small hand-operated light by a person who is on foot and not in any vehicle.
Trail cameras
Trail cameras are legal on private lands, as long as permission is obtained from the landowner or tenant
Trail cameras are legal on IDNR owned or managed sites open to hunting as long they do not pierce or otherwise cause harm to vegetation or structures. Trail cameras and related accessories (e.g., SD cards) are placed at the risk of the owner
Dog Training & Use
Dog training refers to any teaching or exercising activity involving the classification of dogs commonly referred to as sporting dogs in which the primary purpose is to enhance the field performance of the dogs. Sporting dogs are utilized for hunting game birds and game mammals and include such dog breeds as pointers, setters, retrievers, and beagles. Regulations governing the training of sporting dogs varies according to where the training takes place. Details on private land and public land dog training and hunting are below.
Private Land Training
No special permit is required to train dogs on private land with the exception of the establishment and operation of Designated Dog Training Areas (DDTA)
Training activities on private land do have a few special rules:

Training activities require the permission of the landowner
Trainers should have a valid Illinois Hunting or Sportsman's license and Illinois Habitat stamp when afield training sporting dogs
Special provisions govern the training of raccoon hunting dogs (See Ad Rule 960).
Pistols with blank cartridges may be used from sunrise to sunset, but pistols capable of firing blank cartridges only must be used from sunset to sunrise

Designated Dog Training Areas (DDTA)

These are areas of 50 acres or less where an individual may shoot hand reared game birds or pigeons while training sporting dogs throughout the entire year
Free permits are required by the IDNR to designate and operate a DDTA. Permits are valid from April 1-March 31. Permits can be submitted online or hard-copy through the mail.
Applicants applying for a DDTA Permit must possess a Wild Game and Bird Breeder License or a Game Breeding and Hunting Preserve Area Permit
DDTA Permit holders must conspicuously post the perimeter of the DDTA with signs obtainable from the IDNR. The IDNR will provide signs when the DDTA permit is issued.
There is no limit to the number of trainers that can be listed on a DDTA Permit as long as the name and complete address for each trainer is provided on the application form
If a legal description of the training area is not readily available, send a copy of the Plat Map of the township where the training area is located and highlight the acreage or clearly outline the boundary of the proposed training area. Index numbers from tax statements will not be accepted
Trainers must properly band all captive-reared game birds shot on a DDTA before the birds are removed from the area. If the trainer resides on the DDTA, the captive-reared game birds must be properly banded the same day they are taken. Bands are affixed to a leg of the bird after the bird has been shot. The band must remain on the leg of the bird until it is prepared for consumption. Only bands obtained from the IDNR (217-785-3423) may be used. Bands are 10¢ each and orders should be in increments of 100
Public Land Training
A free windshield card permit for the trainer is required by the IDNR which may be obtained online or from the site office during regular business hours. Sporting dog training on public land sites is only allowed in designated areas within the site
The season for training sporting dogs on public land is generally September 1-March 31 with the exception that the training season is closed during upland game hunting season. However, some sites may have seasons that differ. The full list of sites and seasons can be found here
Dog trainers may have pistols and shotguns with blank cartridges in possession while dog training on public land
All dogs and domestic pets must be kept on a leash of 10′ or less while on public land sites except within the designated dog training areas where the trainer has a valid site dog training permit during the open training season
Hunting & Tracking with Dogs
Dogs may be used to aid in hunting and retrieving of upland birds, rabbits, squirrels, waterfowl and select furbearers. Dogs cannot be legally used to hunt, chase, harass or kill deer or turkey
Dogs may be used to pursue or chase, but not kill, furbearers during the running season. The running season for coyote, gray and red fox, opossum, raccoon and striped skunk is open year-round. Except you cannot legally pursue any furbearer with a dog(s) from sunset and sunrise during the 10-day period preceding the opening date of the raccoon hunting season and the 10-day period following the closing date of the raccoon hunting season. Non-residents are prohibited from hunting furbearers or running their dogs in Illinois during any time when Illinois residents would not be allowed to hunt furbearers or run dogs in the non-resident's state
Dogs may be used to track wounded deer if the following conditions are met:

Any person using a dog for tracking wounded deer must maintain physical control of the dog at all times by means of a maximum 50 foot lead attached to the dog's collar or harness.
Tracking wounded deer is permissible at night, but at no time outside of legal deer hunting hours or seasons shall any person handling or accompanying a dog being used for tracking wounded deer be in possession of any firearm or archery device.
Persons tracking wounded deer with a dog during the firearm seasons shall wear blaze orange or blaze pink as required.
Dog handlers tracking wounded deer with a dog are exempt from hunting license and deer permit requirements so long as they are accompanied by the licensed deer hunter who wounded the deer. You cannot legally track deer with dogs on any IDNR-owned or –managed site during hours when deer hunting is open on the site

You cannot legally:

Allow a dog to hunt within 300 yards of an inhabited dwelling without first obtaining permission of the owner or tenant of the dwelling. Except a 100-yard restriction shall apply while trapping, hunting with archery equipment, or hunting with shotgun using shotshells only, or on licensed game breeding and hunting preserve areas, on federally owned and managed lands, on IDNR-owned, -managed, -leased or -controlled lands

Hold a field trial, organized night hunt, water race or other competitive event involving sporting dogs without first obtaining a IDNR permit – see training sections above. Applications must be submitted 4 weeks prior to the event
Possess any firearm or ammunition other than a pistol loaded with blank cartridges while training dogs during the time when hunting seasons are closed except on an authorized field trial or dog training area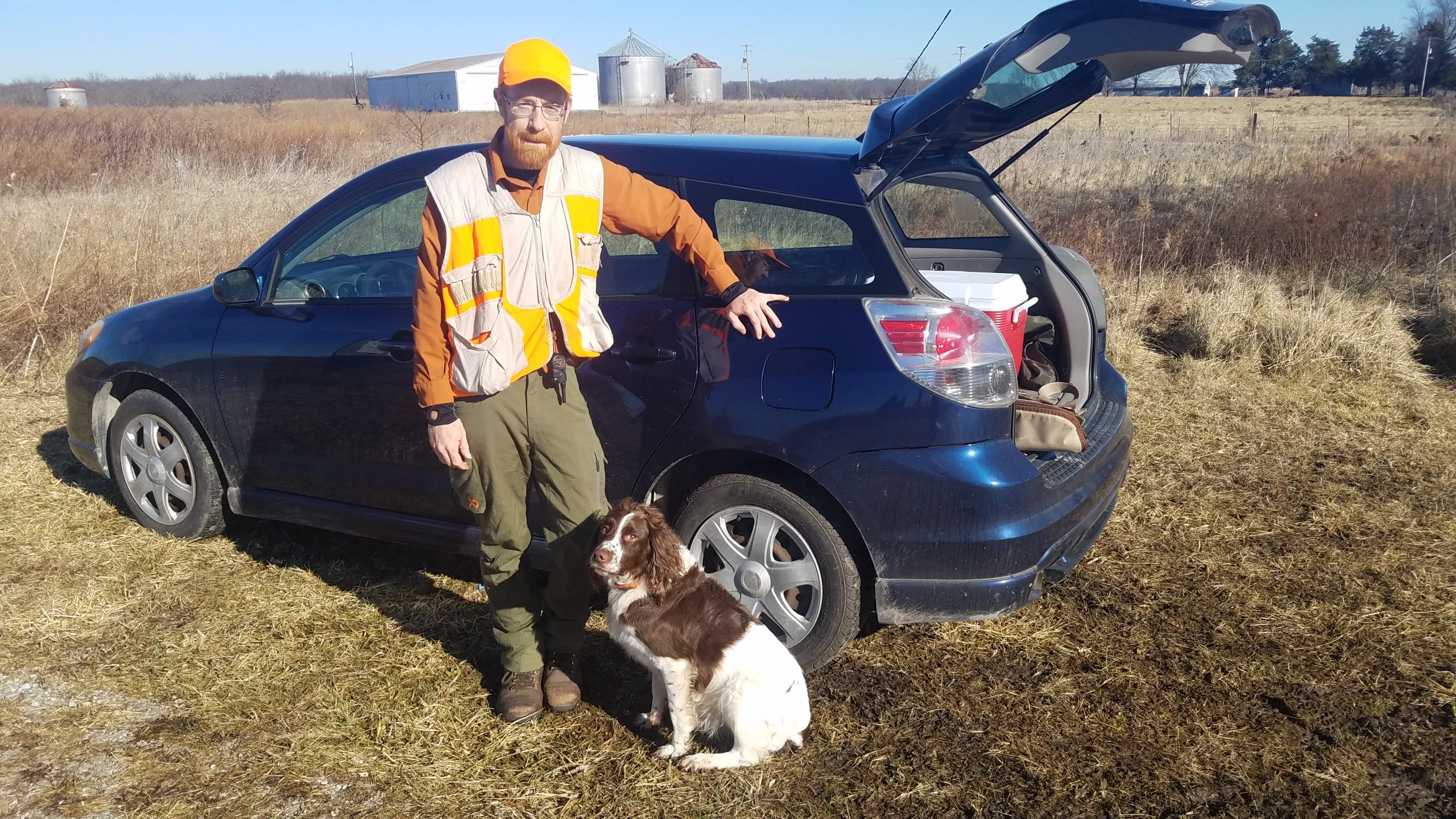 Hunting Times
Wild game can only be hunted during times specified for those game species. Use government sources, such as NOAA, to find the sunrise-sunset times for your hunting date and location.
See the Information by Species section for full details on legal hunting times for species and seasons.
Wildlife Take and Handling
Hunt: act of a person possessing a weapon or being accompanied by a dog or a bird of prey for the purpose of taking species protected by this Act in any location such species may inhabit.
Hunting: the lawful pursuit, trapping, shooting, capture, collection, or killing of wildlife.
Hunting License: an electronic or physical license authorizing the person to harvest a certain type of animal during a specified period of time.
Trap: to capture, or attempt to capture, by setting or placing a leg-hold trap, body-gripping trap, cage or live-trap or other similar device permitted by the Illinois Wildlife Code to capture, hold or kill any protected wildlife.
Take: to hunt, shoot, pursue, lure, kill, destroy, capture, gig or spear, trap or ensnare, or harass or attempt to do so.
Possession Limit: maximum number or amount of species that can be lawfully held or possessed by one person at any time.
Transport or Ship: to convey by means of parcel post, express, freight baggage or shipment by common carrier of any description; or by automobile, motorcycle or other vehicle of any kind; or by water or aircraft of any kind or by any other means of transportation.
Possession and Daily Limits: you cannot legally possess wild game birds, wild game mammals or wild fur-bearing mammals or any parts thereof in excess of the legally established daily limit or possession limit, whichever applies.
Maintaining Separate Bag: you cannot legally possess wildlife for which there is a daily or possession limit unless each hunter maintains his/her "bag" of such species separately and distinctly from those of all other hunters.
Possessing Another's Wildlife: You cannot legally receive or have in custody any protected game belonging to another person, except in the personal abodes of the donor or donee, unless such protected species are tagged with the hunter's name and address, the total number of individuals by species and the date such species were harvested. (But see "Gift of Migratory Game Birds")
Retrieving Killed/Crippled Wildlife (Wanton Waste): You cannot legally kill or cripple any species protected by the Illinois Wildlife Code for which there is a harvest limit without making a reasonable effort to retrieve such species and include it in the harvest limit. It is also unlawful for any person having control over harvested game mammals, game birds, or migratory game birds for which there is a harvest limit to wantonly waste or destroy the usable meat of the game, except this shall not apply to wildlife harvested by means of a nuisance wildlife removal permit or wildlife harvested by means of a scientific collection permit. "Usable meat" means the breast meat of a game bird or migratory game bird and the hind ham and front shoulders of a game mammal. It shall be unlawful for any person to place, leave, dump, or abandon a wildlife carcass or parts of it along or upon a public right-of-way or highway or on public or private property, including a waterway or stream, without the permission of the owner or tenant. It shall not be unlawful to properly discard game meat that is determined to be unfit for human consumption.
Possession of Illegally Harvested Wildlife: you cannot legally possess any species of wildlife or wildlife parts harvested unlawfully in Illinois or any other state or country, whether or not the wildlife or wildlife parts is indigenous to Illinois. The statute of limitations for unlawful possession of such wildlife or wildlife parts shall not cease until 2 years after the possession has permanently ended.
Possession of Freshly Killed Game Out of Season: you cannot legally possess any freshly killed game when the season is closed for taking (see Wildlife Conflicts section for Deer Accidentally Killed).
Selling Wildlife, Feathers, etc.: you cannot legally buy, sell, or offer to sell or barter game birds or migratory game birds, or parts thereof, including feathers, nests or eggs (including wild turkey parts) or the edible parts of game mammals except as provided by specific permits.
Property Laws
Download an IDNR form to record written permission for hunting from a landowner
You cannot legally hunt or allow a dog to hunt within 300 yards of an inhabited dwelling without first obtaining permission of the owner or tenant of the dwelling. Exception: a 100-yard restriction shall apply while trapping, hunting with bow and arrow, or hunting with shotgun using shotshells only, or on licensed game breeding and hunting preserve areas, on federally owned and managed lands, on IDNR-owned, -managed, -leased or -controlled lands
You cannot legally damage or destroy another person's property while hunting or trapping on his/her land
Landowners or lessees can mark trees or posts on private land with purple paint as a "no trespassing" notice
It is unlawful for any person to take (see definition of "take") or attempt to take any species of wildlife or parts thereof or intentionally or wantonly allow a dog to hunt, within or upon the land of another, or upon waters flowing over or standing on the land of another, or to knowingly shoot a gun or bow and arrow device at any wildlife physically on or flying over the property of another without first obtaining permission from the owner or the owner's designee. For the purposes of this law, the owner's designee means anyone whom the owner designates in a written authorization and the authorization must contain (i) the legal or common description of property, (ii) the extent that the owner's designee is authorized to make decisions regarding who is allowed to take or attempt to take any species of wildlife or parts thereof, and (iii) the owner's notarized signature. Private land owners may grant permission for hunting, fishing or other recreational activities on their property, and in most instances, shall not be held liable for injuries to those accessing the property. Limitations exist. Illinois law does not grant the right of trespass for the purpose of retrieving wounded or crippled wildlife or hunting dogs. Secure permission from the landowner or tenant before entering any property. Your conduct while hunting and trapping can influence the landowner's decision to allow future hunting or trapping. Note: Railroad rights-of-way are private property and permission from the owner is needed before hunting or trapping
Hunting by/near Structures
You cannot legally hunt or allow a dog to hunt within 300 yards of an inhabited dwelling without first obtaining permission of the owner or tenant of the dwelling

Exception: a 100-yard restriction shall apply while trapping, hunting with bow and arrow, or hunting with shotgun using shotshells only, or on licensed game breeding and hunting preserve areas, on federally owned and managed lands, on IDNR-owned, -managed, -leased or -controlled lands

You cannot legally hunt, disturb, harass or take any protected bird or mammal by the use or aid of an automobile, vehicle or conveyance, any type of watercraft, aircraft or any machine propelled by mechanical power. Exception: Paraplegics or other disabled persons, with a permit from the Office of Law Enforcement, may hunt from any stationary motor vehicle or stationary motor-driven land conveyance. Note: It is legal to hunt game birds and game mammals (except deer and furbearing mammals) from a boat not camouflaged or disguised to alter its identity or further provide a place of concealment and not propelled by sail or mechanical power. A boat merely painted in a camouflage pattern is not considered camouflaged and may be used to hunt under conditions specified above. See exceptions to boat use in the Waterfowl Hunting section of the digest
You cannot legally hunt, trap or discharge a gun or bow and arrow device along, upon, across or from a public roadway, highway or right-of-way. Highway (right-of-way) means the entire width between the boundary lines of every public road. Roadway means the portion of the public road that is improved or ordinarily used for vehicle travel, excluding the berm or shoulder
You cannot legally hunt adjacent to or near any peat, grass, brush or other flammable substance when it is burning
Feeding Wildlife
You cannot legally make available food, salt, mineral blocks or other products for ingestion by wild deer or other wildlife. An area is considered as baited during the presence of and for 10 consecutive days following the removal of the bait
Exceptions:

Elevated bird/squirrel feeders providing seed, grain, fruit, worms or suet for birds or squirrels located within 100 feet of a dwelling devoted to human occupancy
Incidental feeding of wildlife within active livestock operations.
Feeding of wild animals, other than wild deer, by hand as long as a reasonable attempt is made to clean up unconsumed food.
Feeders for wildlife other than deer so long as deer are excluded from the feed in and around the feeder by fencing or other barriers
Grain or other feed scattered or distributed solely as a result of normal agricultural, gardening or soil stabilization practices
Standing, flooded or manipulated natural vegetation or food/seed deposited by natural vegetation. • grain or other feed distributed or scattered solely as the result of manipulation of an agricultural crop or other feed on the land where grown, for purposes of dove hunting
Food material placed for capturing or killing wildlife pursuant to 520 ILCS 5/2.37, 2.30, and 1.3
Scientific permits issued pursuant to 17 Ill. Adm. Code 520 that allow food to attract wildlife
Any other permits issued by IDNR that require the attraction of wildlife for purposes of management, research or control